Table of Contents
As we revel in the digital age, every company must find a way to reshape and modify its organizational framework. Whether you're deliberating over a remote, hybrid, or brick-and-mortar setup, you can't deny using virtual tools to run your system. Thus, it becomes essential to implement digital or cloud-based procedures instead of relying on archaic, manual ones. In that regard, time tracking at work holds a lot of potential for digital transformation. Let's revamp the traditional process into a more digitally enhanced setup! This blog post will delve into the manifold benefits of employing time-tracking software. We'll also guide you through the process of selecting the perfect time tracker for your team.
How to Choose Time-tracking Software
Discovering the perfect time-tracking software to increase productivity and efficiency can be daunting. However, a company can quickly identify the ideal tool for their needs with a few straightforward steps. Harnessing the power of reliable and accurate employee time-tracking software will pave the way for success. Time-tracking tips can prove beneficial in promoting a robust and effective workforce.
Step #1 - Consult the Team
Employee time tracking solutions are not one-size-fits-all. When choosing a time-tracking app, you need to consider what your employees need. Talk to at least one team or department to determine their needed features. For example, some might want more independence, so screen monitoring might not be helpful. Others might need a tool with geo-tagging for fieldwork. This way, employees will be more likely to support the solution you choose.
Step #2 - Think About What You Want to Achieve with Time Tracking
Before choosing a tool to track time, think about what you want to accomplish by using it. Also, make sure your employees agree with using it. Remember that if your employees don't want to use a certain tool, it's because they need clear rules. Time tracking software aims to manage time better, reduce absenteeism, improve office communication, and reduce distractions. When it comes to your employees, think about their privacy. Only track what you need to and leave the rest to them. Also, only track company devices or personal devices used for work.
Step #3 - Get a Few Options and Compare
If you're ready to take time tracking seriously, the first step is setting parameters and goals and gaining team buy-in. But once you've got all that lined up, the real fun begins: shopping around for top-notch time-tracking software that meets your unique needs!
Start by compiling a list of great time-tracking apps that won't break the bank and come packed with all the features your team needs to reach their full-time tracking potential. Next, compare each app's offerings side-by-side and carefully evaluate which option will best fit the bill when it comes to catering to all your team's time-tracking needs.
To make your search easier, pop over to our list of the best time-tracking tools for 2023! It'll help you start your quest to discover the perfect software to help your team take their time-tracking game to the next level.
Step #4 - Choose the Software
Time to pick the clock-in and clock-out app that's tailor-made for you! From the plenty of options, zero in on the one app that'll be your trusty sidekick moving forward.
Make sure you stick to just one software — no need to pay for multiple services and create barriers between your teams. Keep everyone on the same page and avoid adding to the confusion in your workplace.
Step #5 - Roll Out Slowly
As we've already established, adopting a time-tracking software requires careful consideration as it could impact years of operation — a decision not to be taken lightly.
Therefore, once you make your selection, introduce the software cautiously. Dip your toes in the water with a trial period to gauge the system's compatibility and to ensure it's indeed the tool you want to use in your everyday operations.
Nonetheless, avoid switching between tools too often. Your employees deserve to anchor into a tool and get comfortable with it instead of having to keep up with new time trackers every other week!
Step #6 - Get Feedback
As we have discussed earlier, the most suitable time-tracking app is the one that your employees find the most convenient to use. Ultimately, the decision on whether you have made the correct choice depends on the people who will use the time tracker tool.
Therefore, it is important to ask your employees for feedback on how practical the tool is after using it for a while (Tip: If you select HoneybeeTime, you can send us your employees' feedback, and we will use them to shape the roadmap of HoneybeeTime to make it better for everyone ❤️.). You can obtain feedback by conducting a survey after the tool's trial period and asking employees to share their experiences about using the app.
During the survey, you can evaluate factors such as how easy it was to use the tool, whether the employees were comfortable with the app, and if they achieved their desired goals.
Step #7 - Implement Company-wide
After selecting the appropriate time-tracking tool and getting feedback from the trial team, it's time to introduce the tool officially. The tool should be gradually introduced to other departments and teams while providing extensive training. Everyone should be taught how to use the tool before imposing strict compliance policies.
It's important to be patient in the transitional phase of implementation. Suppose the company already uses a time-tracking solution; a migration period should be assigned, giving employees ample time to transition smoothly from the old to the new tool. Feedback should be gathered consistently throughout the process (Tip: You can send the HoneybeeTime team the feedback and any other information you gather at this point as well!).
While taking your time in implementing the tool, ensure to set a full roll-out date to avoid employees getting complacent in learning and becoming familiar with the new time-tracking tool.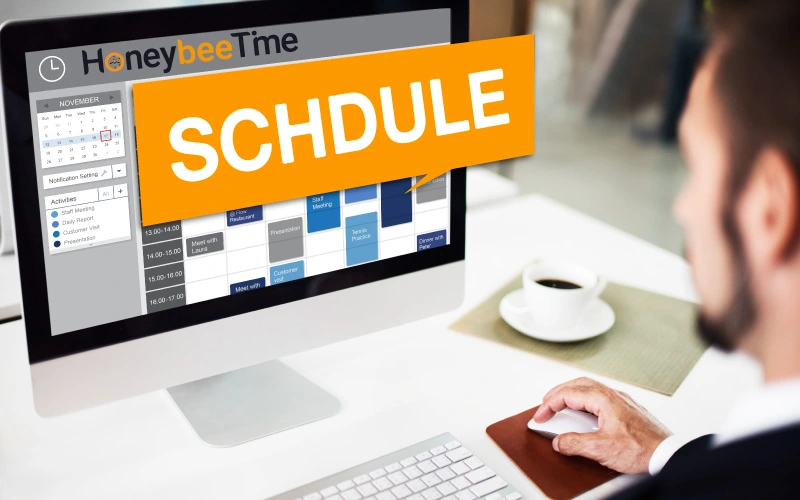 Selecting the appropriate time-tracking software is vital to enhance productivity and efficiency in any company. HoneybeeTime presents itself as a promising solution that is not only cost-effective but also offers essential features to meet various requirements. Follow these steps to ensure you have made the right decision in choosing a time-tracking software. Involve your team, set clear objectives, compare options, and continually gather feedback. This will guide you to a well-informed decision, which will benefit your organization for years to come.
As you begin this digital transformation journey, remember that patience, collaboration, and communication are key to successfully implementing the ideal time-tracking software. With HoneybeeTime, you can confidently move forward, knowing that you have made the right choice to increase your team's productivity and growth.