Table of Contents
We will discuss Free Hubstaff Alternatives in this blog post. There are several possibilities if you're seeking Free Hubstaff Alternatives. These tools assist you and your team in several ways, including time tracking, employee productivity monitoring, and more.
The Importance of Time Tracking and Team Management Tools.
Briefly discuss the significance of time tracking and team management technologies below. Before you implement time-tracking software in your company, it's essential to consider the importance of time-tracking and team management tools.
Accountability and Transparency
Time monitoring makes work procedures more transparent and makes people more accountable. It gives team members a single location to see what they need to work on and enables them to monitor and track their progress quickly.
Understanding of Costs and Billing:
Making better-informed judgments regarding the cost and management of projects, the scheduling of your team, and even how to spend your day is made possible by time monitoring. It is crucial for organizations that provide professional services, use hourly workers or independent contractors, or charge more than cost.
Assessing Work Estimates and Effectiveness:
You can keep track of the hours spent on particular tasks and the whole project using time tracking. This transparency enables you to evaluate the precision of your job estimations and the efficiency of your workforce.
Efficient Work Synchronization:
Time-tracking software makes it simpler to coordinate work, finish projects on schedule, and stay under budget by giving insight into what each team member is doing. This facilitates improved scheduling and more effective teamwork.
Maintaining High Motivation and Productivity Levels:
By precisely identifying what team members are doing during work hours and how much time they spend on each task, time monitoring aids teams in maintaining high levels of motivation and productivity. Additionally, it aids in resolving future challenges and disputes, better planning and prioritizing, and achieving individual and group objectives more swiftly.
Improving Time Management:
Teams may manage their time more effectively by identifying places where they can work more quickly or by knowing which team members can take on additional responsibilities. When utilized properly, it aids teams in producing better outcomes on upcoming tasks and encourages development, financial stability, improved productivity, and job happiness.
Avoiding Micromanagement:
Be sure to emphasize to your staff that time monitoring will not be used to micromanage workers when you first introduce it to them.
Key Features of Hubstaff
Hubstaff is a time-tracking and productivity-monitoring program that provides various functions to aid organizations in effective labor management. Here is a summary of some of its main features:
Time Tracking:
Freelancers and Virtual Assistants
To improve the productivity of your staff, track employee work hours and access online timesheets.
Productivity:
Recognize productivity difficulties and take appropriate action.
A simple yet effective employee work tracker includes screenshots, timesheets, billing, in-depth reports, and more.
Workforce Management:
Allow Hubstaff software to handle time-consuming administrative duties like payroll and invoicing so you can concentrate on expanding your business.
To transfer money to regional and worldwide teams based on work hours throughout each pay period, use Hubstaff's automatic payroll tool.
Why Look for Alternatives?
The potential limitations of Hubstaff.
Here are some potential limitations of Hubstaff:
Limited Advanced Tracking:
One of its key drawbacks is the need for more sophisticated monitoring options in Hubstaff. Small firms would not have an issue with this, but the most significant organizations could need more sophisticated monitoring alternatives.
Limited Integrations:
Hubstaff offers fewer connectors than other time-tracking programs, even though it does interact with other technologies. This may disadvantage businesses that rely on specific tools for their operations.
Customer Support:
Hubstaff's customer service has received complaints from specific customers. Businesses needing prompt assistance to address problems may find this a problem.
User Limits:
You may restrict time tracking within a planned shift or establish user limitations for the maximum number of hours that can be tracked in a day or a week using Hubstaff. This can be a restriction for companies that need greater flexibility in their time tracking.
Buggy Android App:
Some users claim that the Hubstaff Android app sometimes has bugs. This might be an issue for companies that depend on mobile time monitoring.
What is the importance of using Hubstaff alternatives for startups and small businesses?
For startups and small businesses, every penny counts. It's crucial to keep expenses low to achieve growth and success. This is where the significance of using Hubstaff alternatives comes into play. Hubstaff alternatives, like HoneybeeTime, often come at a lower cost, offering essential features for managing teams and projects without stretching the budget. These alternatives provide small businesses with the tools they need for efficient time tracking and project management. This means they can focus more resources on growing their business without worrying about high costs. Opting for affordable and effective Hubstaff alternatives empowers small businesses and startups to streamline operations while saving money, paving the way for future success and expansion.
Free Hubstaff Alternatives
Here are some Free Hubstaff Alternatives.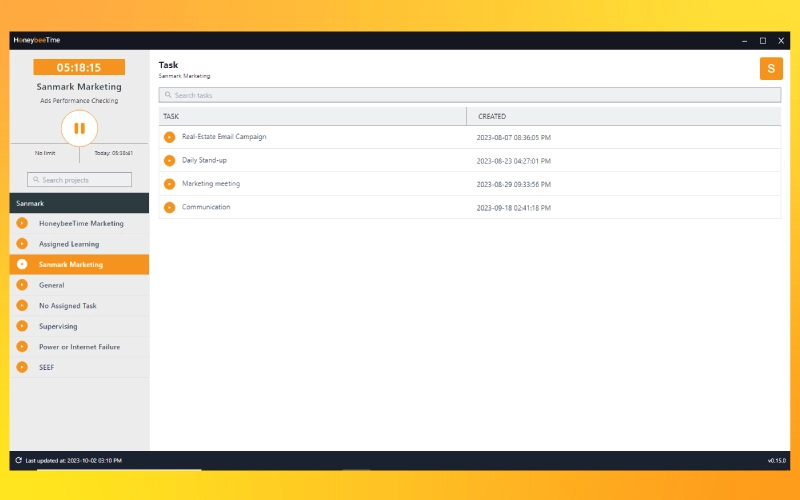 Here are some key features of HoneybeeTime, a free time tracking and productivity tool:
Affordable Time Tracking:
HoneybeeTime is cheap software that helps you keep track of how much time you and your team spend working.
Web & App Usage:
With HoneybeeTime, you can track how your team uses the web and apps. This lets you monitor their work and find places where they could do better.
Screenshots:
HoneybeeTime provides the option to capture screenshots, giving you a visual representation of your team's work and helping you ensure they stay on task.
Tasks:
You can make tasks and give them to other people on your team. This will help them stay organized and focused on what's most important.
Customizable Reports:
HoneybeeTime lets you make reports that you can change to show how productive your team is and helps you make decisions based on facts.
Clockify:
Here are some key features of Clockify, a popular free time tracking and team management tool:
Free Time Tracking:
Because of its flexible, cross-project time monitoring options, Clockify is teams' most often used free time tracking tool.
Integrations:
With over 50 online app integrations, Clockify makes tracking time from any web browser simple.
Idle Detection and Reminders:
You can enhance your work with Clockify's idle detection and reminder functions.
Activity Tracking:
Clockify runs in the background, monitoring web and app usage, which can help individuals self-monitor their performance and understand how distractions affect their work.
Toggl Track:
Toggl Track is a popular time-tracking and productivity application, and it has several useful functions:
Flexible Time Tracking:
With Toggl Track, you can keep track of chunks of time and assign them to certain activities, projects, and categories. Time may be recorded in a few different ways: with a simple start/stop button, manually input, or resizing blocks of time in a calendar view.
Integrations:
Over a hundred websites may be integrated with Toggl Track's time monitoring features.
Cross-Platform Apps:
Toggl Track may be accessed from any web browser, desktop operating system (Mac, Windows, Linux), and mobile operating system (iOS, Android).
Conclusion
Hubstaff is a well-known time-tracking and team management solution with several features to aid companies in increasing their productivity and efficiency. It is especially advantageous for e-commerce companies. However, it could have drawbacks, including constrained possibilities for sophisticated tracking, constrained integrations, and sporadic program breakdowns.
When seeking free Hubstaff alternatives, startups and small enterprises might consider HoneybeeTime, Clockify, Toggl Track, Jibble, Harvest, Time Doctor, and DeskTime. These cost-free options help firms save expenses and enhance operations.
HoneybeeTime is an excellent choice if you're a startup or small company seeking a cost-free substitute for Hubstaff.